Categories:
19-03-2009-->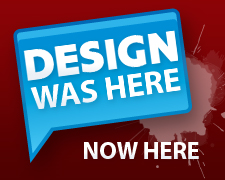 What it's all about
Design was here is a design blog that features different aspects of design. It showcases design trends, articles, tutorials and resources for use in the field of design. Design is all over the place and can be seen anywhere. This serves as scrapbook of design post that I've written, seen and experienced and tell that I was there. Design was here is dedicated in sharing those to the readers, to inspire them to learn more, share it to the community and apply it with their daily lives.
How it all started
I've been a fan of design blogs for a few months now. I find trends, tutorials, and articles that I find useful and I try applying it on my works and personal stuffs. I thought that I could also do the same thing and share my ideas to the design community.
What to expect
Currently, i have a lineup of new and exciting articles about current Design Trends, Tutorials, Inspirations and Resources that i would like to share.
Expect these articles to be helpful and effective. These articles i will soon be publishing consists a part of my motivation to finally have the courage to launch this design blog. If it did help me, it would surely help you too. Visit this site from time to time to keep you posted and updated.
Extend your help with Design was here.
You can help us by sharing this to the community through voting us with any (or all!) social bookmarking buttons you can see below this post. This helps in bringing traffic to the site and spreading the love to everyone who would benefit from this post. Every post was well written and researched, taking few hours and even weeks of work. I would be glad that I somehow teach and inspire other people with my posts.
So what now?
Give me a warm welcome by commenting on my post and let me know that you're here. Now, you can subscribe to my feeds through RSS or Email and get updates on my recent post. You can also follow me via twitter and contact me through the contact form. Spread the love!
I have just launched my very own design blog and the best part is, I am now ready to share it with you guys. Don't I deserve any warm welcome? I would very much appreciate if you do. It wouldn't cause you much by just simply leaving a comment to anything in here, to any posts that has caught your attention and interest. I would love to hear from you and I would very glad to comment you back.