Categories:
16-05-2009-->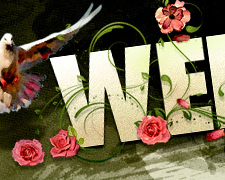 The Featured Website Design of the Week is a weekly feature of great Websites with great design done by awesome designers. Here are some nationality influenced pattern inspiration for your website design.
In this week, we will feature the websites, Made In Space, Foehn, Weberica and Lebloe. Get to know about the website and some information about the designers.
Made In Space: Web & Flash development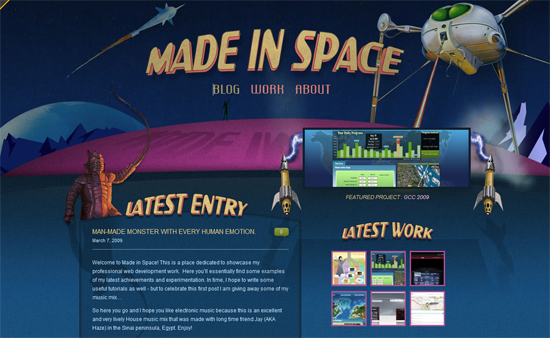 Madeinspace is the portfolio of Freelancer Fabrice Million, Flash and Web Developer based in Melbourne.

Designer: Hayden Peters

Bio: I Design, scaffolds & builds websites & Flash applications, My specialties evolve around Interaction Design, programming Flash with AS3 and building Flash Apps, Websites or widget that you can tweak and play with! I also specialise in accessibility and standards compliant XHTML/CSS/Javascript development.

URL: http://madeinspace.com.au
Foehn - Business Technology Solutions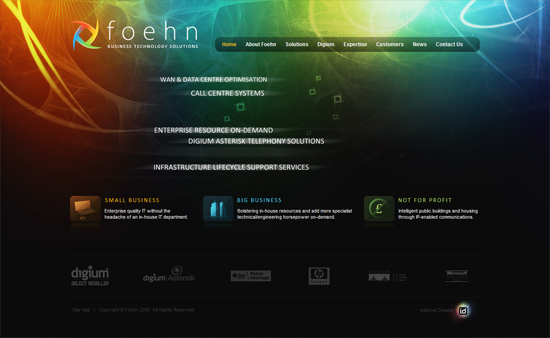 The company is a professional services company aiming to deliver next generation solutions (IP/ open source/ software solutions). Innovation, technology, professionalism and flexibility was what we wanted to convey.
Also Foehn refers to a dry hot wind in Europe something that was in the mind of the designers at the time.
Designers: Internet Dreams
URL: http://foehn.co.uk
Weberica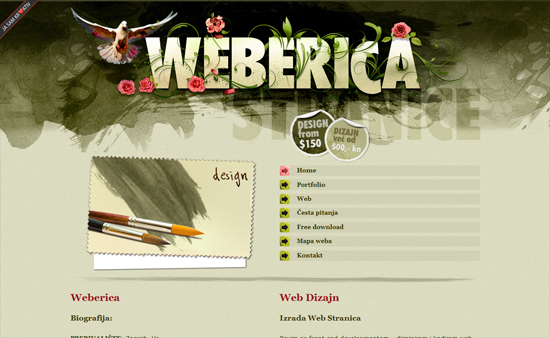 This is my personal portfolio, I designed, sliced and code it.
Designer: Branka
Bio: I am freelance web designer from zagreb, croatia, also write articles for design blog www.kroativ.net.
URL: http://weberica.net
Lebloe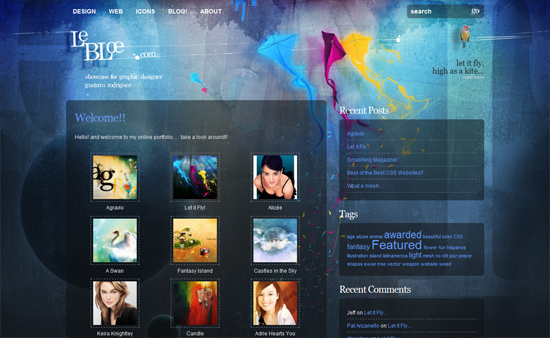 A personal portfolio of Gustavo Rodrìguez. From the designer: The name, I know, it's a little odd, it's a "french course mispelling" (about 9 years ago, when trying to spell, le bleu), and despite it's weird, and somehow meaningless, it was pretty original, after that I realized I was using it everywhere, and then, it had to end up being my graphic identity.
What takes most of the attention is the background, I just came out with an idea of a kite, in a more "fantastic" way, once I started I just let it flow, overall, since it was about my own website, I was doing it my way. As a designer you have to always think about convincing your customers, and showing them something they like, this time I was trying to convince myself and that was the result. After that, the concept of "let it fly, high as a kite" just came easily to my mind and well, there it is.
Designer: Gustavo Rodrìguez
Bio: A graphic designer from Colombia, and have been living in Montréal (Canada) about 8 months so far. He worked on different web development projects, multimedia and icon illustration, although what he enjoy the most is illustration and photo manipulation, he likes to experiment with colors, shapes, and the themes are pretty much based in fantasy and surreal topics, he like to add a grungy style to his designs, work with colors and contrast.
URL: http://lebloe.com
Your Turn
What do you think of this websites? Which one's your favorite?