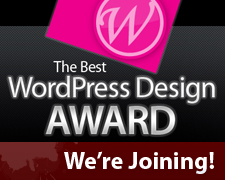 WPWebhost is having a contest for the Best Designed Wordpress Blogs or sites.
The WordPress Design Award is divided into 5 separate categories:
» Best Clean and Minimalist
» Best Retro and Vintage
» Best Grunge
» Best Hand-Drawing Style
» Best Modern and Elegant
So what's the prize?
The winners will get a badge (think of it like a trophy) which link back to the page stating the winners. And like all the awards, it's all about glory and not so much about the money. That being said, we are giving away $200 COLD HARD CASH (via PayPal) to the winner of each category. If you are already not hosted with WPWebHost (a lot of WordPress blogs already are), we'd love to throw in a life-time hosting sponsorship offer too (we will waive your future bills if you are a customer).
They sent me an email last month and encouraged me to join the said contest. My site was not even 30% complete that time, but now I think its complete and running smooth. I'll be joining the contest under the "Best Grunge Theme". So wish me luck! Thanks!

The Best Wordpress Design can be used in any windows web hosting.